Breakout Speaker Announced: James Ruder, Owner of L&R Pallets Service, Inc.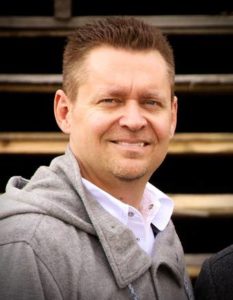 James is the second-generation owner of L&R Pallet Service, Inc. Established by his father in 1974, L&R Pallet has provided their customers with pallet solutions for over 42 years. After James made the decision to change the company's focus to its employees, L&R Pallet has grown to be the largest Colorado based pallet manufacturer in the Rocky Mountain Region. L&R Pallet operates a state-of-the-art manufacturing and recycling facility to sort, repair, assemble and dismantle pallets…….distributing nearly 10,000 pallets per day.
James graduated from Colorado State University in 1991 with a BA in biology and a focus in neurobiology.  He had been pursuing a career in the medical field and felt that pallets were not a part of his future.  However, God had something different in mind for him whether he realized it at the time or not. Through the discovery of a "research lab" analyzing pallets at Virginia Tech, James connected with a professor of science, re-evaluated his career options and reenlisted in the family business.
Though he was raised in a Christian home and "accepted Jesus into his heart" at a young age, James never really understood what it meant to be a Christian Business Owner. The change in his direction started in the spring of 2013 with what James identifies as his "God Moment": a missions trip to Peru. While there his heart was touched by a pair of orphans and upon returning to the States he was compelled to become president of the ministry, Lost Children of Peru. An invitation to attend Colorado's First Annual Christian Business Leadership Conference soon followed. Here, James heard Paul Cuny speak on the "Secrets of the Kingdom Economy," and it was at that moment where James began to reprioritize his life's commitments in not just one but all areas of his life.  For the next 3 years, God completely transformed James and the pallet company that he's been given the responsibility to steward.
James will share his story on what Missions in the Market Place looks like for his organization and will explain how he has found a new purpose by using his company as a vehicle to impact the lives of those within his circle of influence. James considers himself an apprentice of Rick and Holly Betenbough and is very excited to challenge others business owners to make the 40 hours a week that they have a captive audience employed… count for the Kingdom.
As part of James' journey, God clearly decided to use L&R Pallet as a place of refuge for those needing more than just a job.  In October of 2013, James and his team hired 7 Burmese refugees and today they employee over 81, comprising nearly 2/3rds of their work force.  L&R Pallet has become a flagship in Colorado's refugee community for successfully integrating refugees and has been recognized by the Denver Post, as a guest at the Colorado Prayer Luncheon, and most recently by the 700 Club.
James credits his wife Carine for much of his success as she encouraged and supported him in all aspects of the business for soon-to-be 24 years of marriage.  He has 3 children: 19yr old son, Dylan attending Azusa Pacific University; 15yr old son Devan, attending Valor High School; and 10yr old daughter, Emma.